---
The Computer Centre at IMAGE is having latest PCs in a completely networked environment. The Computer Centre has four computer Class Rooms with 24 computers each.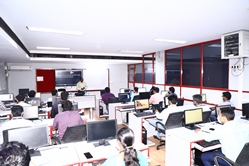 The participants of Computer based Programmes are provided with a separate computer exclusively. As a result the participants can have hands on experience immediately after the concepts are taught to them.
In a normal computer learning system there will be a separate computer lab and participants can access it only during the lab session. But at IMAGE the participant can explore and experiment even as the concepts are being taught. This facilitates reinforcement of the spoken concepts by hands on done then and there.
The important aspects of the Computer Centre are :
The Computer Class rooms are having 24 networked-computers each
All the computers are connected to UPS to save from power failures.
The Computer Class Rooms are centrally air-conditioned
The Computer Rooms are provided with latest Multi Media Projector / Touch Interactive Smart Screens, through which the computer concepts are projected to the screen.
The participant can look for himself how a particular result was obtained by the Teacher.
The Chairs and Tables are ergonomically designed so as to facilitate sitting for long hours.
Flexibility for loading different kinds of software to suit the requirements
Similar facilities with One Computer Class Room (24 PCs) have been provided in all 9 Staff Training Centres .
( Last modified on Mar 23, 2023 at 02:03:38 PM )